Welcome to
Inspiring Vision for a Better Tomorrow
WHAT WE
DO
We are a Psychiatric Rehabilitation Program (PRP) that offers mental health and support services to the community. Our focus is to promote the well-being of the individuals and families utilizing a service system that emphasizes trust, respect, confidentiality and compassion. We are committed to quality mental health care that is provided in a collaborative effort with client's and family's overall health strategies supported with an array of like skills training. We are further committed to the philosophy that we exist for the client.
The service population primarily includes children of all ages and adults. Specifically, services that include life-skill supports that are structured in collaboration with treatment plans developed by licensed mental health professionals. We also have a multidisciplinary professional staff that includes registered nurses and licensed counselors to provide a variety of services:
Mood & Anxiety Disorders

College & Career Resources

Additional Counseling
Post-Traumatic Stress

Life Skills

Financial Education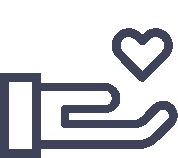 "Servicing one client at a time plants the seed for making a better tomorrow for the client, for the community, and for
the world"
Be Inspired!
If you would like to receive updates or more information on our programs and volunteer opportunities, please provide your e-mail address and you will be added to our mailing list.